Verin de Clermont sat in her Berlin home and stared down at the newspaper in disbelief.
"Verin" derives from the English and German "Verena" or may have Slavic origins. It means either "Faith" or "Truthful."
"What is it, Schatz?" Ernst Neumann put a glass of wine in front of his wife. She looked far too serious for a Monday night.
Schatz is a German term of endearment meaning "gem, jewel, or treasure." You could also call your beloved Schatzen or or Schatzi, both of which mean "little treasure." If you want to branch out, you can use Mauschen/Mausi (little mouse), Haschen/Hasi (little bunny), Barchen (little bear), or my personal favorite (and oft-heard in my house), Schecke or Schnecken (little snail).
"Where are you, Gallowglass?" Her nephew was a drifter. In the past he'd sent postcards with nothing but a phone number on them from whatever stretch of road he was traveling at the moment: the autobahn in Germany, Route 66 in the States, Trollstigen in Norway, the Guoliang Tunnel Road in China.
The "autobahn" refers to Germany's controlled-access highway system.
While unregulated sections of the autobahn have no speed limit, there are increased penalties for causing accidents at high speeds and many areas impose speed limits due to hazards like construction or substandard road surfaces.
Established 1926, Route 66 is one of the original highways in the US Highway System. The original route of Route 66 stretched from Chicago, Illinois, to Santa Monica, California, passing through Missouri, Kansas, Oklahoma, Texas, New Mexico, and Arizona on the way. The original route no longer exists, but you can still drive many of its sections by following a turn-by-turn map.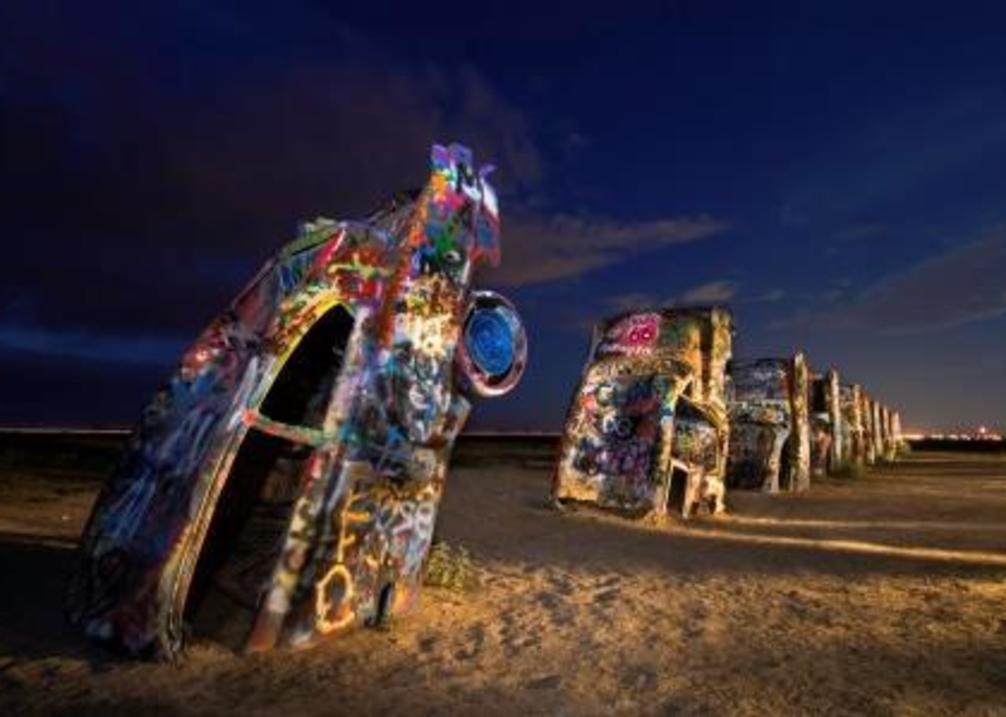 In 1938, Route 66 became the first US highway to be completely paved. It's also mostly flat, which made it popular with truckers and tourists heading west. During its heyday, Route 66 had hundreds of points of interest dotting its length — including the Cadillac Ranch (Amarillo, Texas), the town of Santa Fe, New Mexico, Petrified Forest National Park (Holbrook, Arizona), and the Santa Monica Pier (Los Angeles, California). The National Parks Service maintains a very detailed map of Route 66 Historic Sites broken down by groups of states along the way.
The Trollstigen, or Troll's Road, runs from Geiranger to Stigrora in Northwest Norway. It's a popular tourist attraction with eleven steep turns up the mountainside and beautiful views.
The mountains surrounding Trollstigen reach an altitude of over 1600m above sea-level. The area is full of stunning hiking opportunities and gorgeous fjords.
The Guoliang Tunnel merits an entry in the Atlas Obscura, so you know it must be odd. The road–dug into the side of a mountain at the cost of several lives–connects the village of Guoliang to the outside world, including the larger municipal area of Zhengzhou. Because the villagers followed the path of least resistance while tunneling the road, it dips and winds its way through the rock and is only wide enough for one car to pass through at a time. The video (embedded below) gives me hives.
"Where in the hell is Warrnambool"? Verin demanded.

"Australia," Ernst and Gallowglass said at the same time.
Warrnambool is a city along Australia's Great Ocean Road, which follows the southern coast of Australia and has a number of points of interest, including beaches, whale-watching sites, wineries, fisheries, and Aboriginal cultural landmarks. On this snowy, drizzly day in the national capital region, it sounds AMAZING. Oh, also — Warrnambool has a Cheese and Butter Museum listed on its "things to do" list. I am packing my bags as we speak.
"The number" had been generated in the earliest years of the telephone. Philippe had picked it: 917, for Ysabeau's birthday in September.
17 September is a busy day in history: in 1630, it's the date of the founding of the city of Boston, Massachusetts. In 1787, it's the day that the US Constitution was signed in Philadelphia. In 1849, it's the day that Harriet Tubman escaped from slavery. In 1954, it was the publication date for Lord of the Flies. In 2011, it was the day the Occupy Wall Street movement began.
Nyd, the rune for absence and desire. Gallowglass dipped his hand into the bag again to better understand what he wanted the future to hold.
"Rune" means "holding a secret." Viking age civilizations used runes to predict the future or obtain answers from the oracle. In addition to serving as a "magical" system and potential system of divination, runes constituted a writing system in several countries that form part of modern-day Scandinavia. You can now buy rune stones on Amazon, though they may lack the historical and sentimental value of those Gallowglass carries.
As Deb points out in the Real-Time Reading Companion, Gallowglass has the last word until we re-join Matthew and Diana upon their arrival in Prague in March. Deb thinks of this song, Circa Paleo's "The Gael" as "Gallowglass's Theme."
If you like what we do, please consider supporting us on Patreon. You can also find us on Facebook as the Chamomile & Clove Clovers.
If you're suffering from #Witchdrawal, consider joining us tomorrow (2 February 2019) as we live-tweet Episode 1×03 of A Discovery of Witches TV at 4:30 PM Pacific/7:30 PM Eastern/12:30 AM GMT using the hashtag #ccalchemy. We've had a killer time live-tweeting Episodes 1×01 and 1×02 and we'd love for you to join us. Follow us @chamomilenclove on Twitter for updates. If you have questions, comments, or thoughts, send us a note at chamomileandclovecast@gmail.com. We'd love to hear from you!
xoxox
Cait and Jen